Covid
Island
Discs
List songs by: Artist Publication Year
Return to Covid Island Discs Page
Playlist Video for Week 8 (click here)
Day 54 (album cover 9 of 10): You're so Vain, Carly Simon.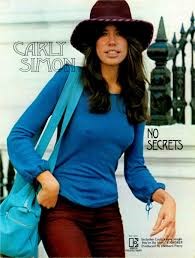 So with the partial release of the UK shutdown the question is when do I bring Covid Island discs to a fitting conclusion? I have decided its end point (my last post) will be on the day that I first am allowed to go swimming again. My guess is that won't be too far away but we shall wait and see.
In the meantime, I just never get sick of hearing this song and the Youtube clip is a great version in a great location.
My Video Summary
If you click on the Playlist Video for Week 8 (top right of this page) you will be taken to a single video which allows you to play each song in this week's list one after the other. Alternatively, if you watch my own video summary below of this week's songs at the end of the video two playlist links will appear. The one on the left hand side will take you to the video playlist for this week while the one on the right will take you to a single video playlist that allows you to play the complete Covid Island Discs collection for all the currently completed weeks so far — well over 200 songs and counting!