Covid
Island
Discs
List songs by: Artist Publication Year
Return to Covid Island Discs Page
Playlist Video for Week 1 (click here)
Day 2: Sand in my shoes by Dido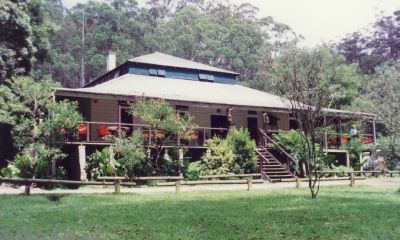 It will quickly dawn on people as I share my list over the next few weeks that I am still mostly stuck in the 20th century in terms of my music. So just to demonstrate that I have just about managed to make it into the 21st century with some of the music I listen to, this is a song released in 2003 (thought it was later than that).
From the time I was born until I left to come to England in 1992, I used to spend every Easter at Barrington Guest house. This was such a lovely holiday for a special set of families who would converge on the guest house every year for the Easter break. Over the years, these same families became great friends as we enjoyed each other's company. During the Easter break we would walk together in some of most beautiful rain forest in the world, ride horses, feed Rosellas that would eat out of your hand or land on your head, compete in a Davis cup tennis tournament, swim in crystal clear rivers (sliding down a natural rock face slippery dip) and attend one of the most amazing country Saturday bush dances complete with a diagonal couple "Strip the Willow" spin. The older teenagers and twenty somethings would then commandeer a tour bus after the dance and sing songs like "American Pie" until the early hours of the morning. It truly gave me many of the most memorable and enjoyable times in my life.
Yet it was always a downer when the holiday was over and we had returned to Sydney. Although there wasn't much sand at Barrington, sometimes you would find something (say mud or a bloody sock from an encounter with a leech) on your shoes that would make you think, "wow I wish I was back there". Over the years I wrote many silly lyrics to famous tunes sometime to perform at school formals or house parties. Yet the comedown from Barrington one year was enough for me to write my own song (I have only ever written two proper songs in my life) which I guess was along similar lines to this Dido classic. For what it is worth, my chorus went: "it's a matter of time, that drives us fast, pushing our future into the past, a holiday with you, passes too soon, leaving us to steal memories while staring at our room."
There is a sad postscript to this story. In 2006 Helen and I were booked into Barrington Guest House. I drove excitedly to the spot pulling up and getting out of the car to be greeted by someone. The conversation went like this:
Me: "Hi we are here to stay at Barrington"
Bemused person: "you not staying here mate"
Me (a little confused): "why?"
Person: "It burnt down last night"
Why did I not see that? Well the outer shell of the guest house was still standing (I now understand the full meaning of the term when they say a house has been gutted). It was only when you got closer you could see the smouldering smoke rising from the interior. Such a tragedy because the guest house was built sometime early in the 20th century which made it a valuable historical artefact by Australian standards.
My Video Summary
If you click on the Playlist Video for Week 1 (top right of this page) you will be taken to a single video which allows you to play each song in this week's list one after the other. Alternatively, if you watch my own video summary below of this week's songs at the end of the video two playlist links will appear. The one on the left hand side will take you to the video playlist for this week while the one on the right will take you to a single video playlist that allows you to play the complete Covid Island Discs collection for all the currently completed weeks so far — well over 200 songs and counting!